Description

Lowest Price Guarantee

Easy Returns

Fast Shipping

No Sales Tax On Your Order

What Makes Us Unique?
SoverSky S5 Electric Fat Tire Stand up Scooter
[Safety is priority] All the parts of S5 are made of high-tension steel and aluminum, highlight front light, brake lights . We also use the disc brake to reduce the distance .
[Technology makes Innovation] Overcurrent Protection, Overcharge Protection, Over discharge Protection etc.
[Seated Scooter] Due to our 60V 20AH high-density lithium battery pack provides 30 miles of city range or combined stop-and-go range, It's very necessary to put a seat on the scooter which can making your travel more comfortable .

[Rear Wheel Drive] Rear wheel is 2000watts Hub Brushless motor,which can bring you the 20MPH speed,strong acceleration,high torque.The Fat Tire make it more safe when you make turn or in the condition of wet ,rain weather .
[SMOOTH SPEED ACCELERATION] With integrated controllers Possess a good level of stability in power supply control and high current output capability making the speed change very smooth .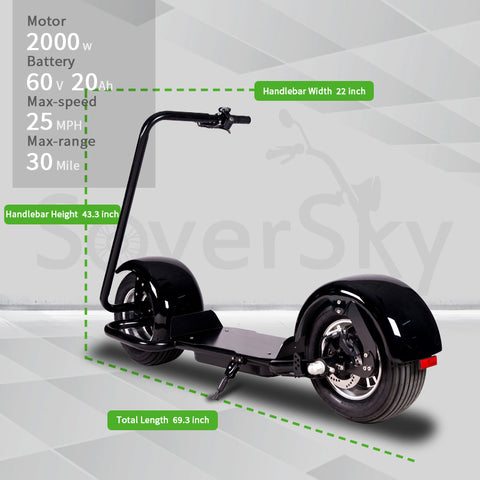 Specifications
Motor
2000watts Brushless Motor
 100 NM max motor torque
Max-Speed
20 MPH ( Optimized Terrain )
Battery
60V / 20Ah Lithium-ion Removable
Max-Range
30 Mi ( Optimized Conditions )
Controller
60V / 40A integrated controller
Max-Load
350 Lbs
Charger
2A Regular Charger
Charge Time
6-8 Hours
 
 
 
 
Tire Size
215/40-10 vacuum Tubeless
Tire Pressure
Front: 250 kPa  Rear: 250 kPa
Brake
Hydraulic brake
Suspension
No Suspension
Wheel Material
Aluminum
Frame Material
Seamless steel pipe
Light
60V Headlight,Brake light
Mode
One Wheel Drive 
Kickstand
Yes
LCD Display
Speedmeter , Mileage,Power
Phone holder
with USB port
No
Bluetooth Speaker
Optional 
Saddle Bag
No
Rear Basket
No
Shipping Size
63" * 14" * 24"
Shipping Weight
140 Lbs
Lowest Price Guarantee
We work very hard to ensure that we offer the absolute best prices online. If you find another online store that offers a lower price aside from us before your purchase date please let us know and we will credit accordingly, if sensible. We want you to feel confident that you are getting the absolute best price for the product you are ordering (Please note that this doesn't apply to promo offers, closeouts, seasonal, or holiday sales). We do not Price Match Extended Warranties
To request your price match simply e-mail us a link to the same product on our website, or on our competitors website before your purchase order and we will process the payment accordingly.
Our 100% Price Guarantee has some limitations:
Promotions such as rebates and buy one, get one free offers are not eligible

The item must be in stock on the competitors website & manufacture level

The competitor must be an online store, they may not have a retail location

The website can not be a discounter or auction website (ie; walmart, amazon, eBay, overstock, etc..)

The competitor must be an Authorized Retailer of the product in question

The Price Match Guarantee includes the item price and the shipping charges, it excludes sales tax
EASY RETURNS
Cancellations & Refunds:
If your product has already shipped but not reached you then you'll be subject to a 15% restocking fee and any additional shipping fee. (If your purchase is a pre-order we don't charge any fee for cancel)
Returns & Refunds
If you are unsatisfied with your purchase we will gladly accept your returned item. Our general returns policy lasts 7 days. If 7 days have gone by since the arrival of your purchase unfortunately we can't offer you a refund or exchange.
To be eligible for a return, your item must be unused and in the same condition that you received it. It must also be in the original packaging. Merchandise must be received in 100% new, re-sellable condition. Merchandise is not eligible for refund if it has been ridden, worn, used, abused or damaged in any way. Customers are responsible for total shipping cost (original shipment and return) of merchandise at their own expense unless notified otherwise. To complete your return, we require a receipt or proof of purchase.
Returned product will have a restocking fee of 15%, it may be lower depending on the manufacturer.
FAST FREE SHIPPING
Shipping For Your Order:
Every order will be confirmed via e-mail directly after you place your order. The confirmation means that we have only received your order in our system and have pre-authorized your credit card for the purchase. After we receive your order we will automatically reach out to our vendors to confirm that the product(s) are in stock and available for immediate shipment. If your product by chance is on back order or unavailable we will void the pre-authorization and contact to you via e-mail. Products usually ship out fast within 1-3 days on business days via UPS, Fedex, or Freight Delivery depending on your items size. Due to the larger size of our product we do not offer express shipping options. If your item(s) are available for immediate shipment (on business days) we will process the charges and submit the order to the destination. Note: Most larger products are delivered curbside/outside via a Freight company.. We ship only in the lower 48 states of the United States.
Shipment Process:
If your order is in stock and we process the charges to your credit card it will ship within 1-3 business days from the date of your order. We will send you tracking information within 24 hours of your order leaving the warehouse to the e-mail address your provide when checking out. If you do not receive tracking information from us within 5 business days of your order feel free to follow up with us at support@letsebike.com . Orders should arrive 2-5 days after it's been put in transit depending product ordered and delivery location. Note: Some large items require delivery appointments with the freight companies at times. It is the customer's responsibility to set this up.
Damages:
Please inspect the packaging of your item(s) when they arrive, if you notice any damage you should make note of it when signing for delivery. If your item(s) do arrived damaged please send photos before the assembly. If photos are taken after assembly we assume that the bike is used. Please email your photos to support@letsebike.com and we will process a claim on your behalf and send out replacements parts.
No Sales Tax On Your Order
NO SALES TAX ON YOUR ORDER
No Sales Tax: This gets very interesting..... Before the big turn in the world with the pandemic going on, most retail stores were available for walk ins. After the pandemic in 2020 most retailers had 2 choices;
1. Shut Down Business Completely
2. Pivot 100% Online as a Retailer
We're number 2. We are 100% online retailer, yes we're not able to offer that in person shopping experience anymore, But we focus on our pros. And we have some amazing savings opportunity, just for you!
We're able to cut cost by not leasing brick and mortar spaces and put that savings BACK INTO OUR CUSTOMER'S POCKETS. By being online, it also helps us get 99% of our customers qualified to pay no sales tax on your purchase with us. Most of our customers save anywhere from $100 to upwards of $1,000+ on select purchases with us because of our advantages in the market! Yes, we said $1,000+ saved.
How?
If you have a bigger budget for your Ebike, Why buy your Electric Bike from a local retailer and spend an extra $100 - $1000+ on just sales tax alone! Good thing is, you can save that extra in your pockets.
Like most customers, just roll over that tax savings to an extended warranty to protect that bike of yours :)
Make the right decision.
WHAT MAKES US UNIQUE
Thanks for stopping by to Let's Ebike! We have all of the best options for electric bike. We carry top quality brands in the industry for ebikes.
Overall our mission is to provide immense value to our customers to give them the best option possible for them. We are not the Brand, we carry brands. By carrying brands this gives us a chance to give our customers multiple options to find the best bike choice for their experience!
We aren't like any other bike stores. We provide the following:
- Amazing Customer Service: We put our customer on a pedestal, honestly without you there will be no Let's Ebike. Give us a call, our phone reps are available to speak 24/7, we're not like most companies who look at you as just an order number, your name to us. YOU MATTER TO US.
- Top Quality Bikes: This is relative to your opinion, but we have have factual data as well. We carry best selling brands in the industry for commute, mountain biking, hunting, and more!
- Fast Shipping: If our products are in stock we typically ship anywhere from Same Business Day to 3 Business Days. For the most part, your merchandise is handled diligently with very fast shipping to arrive at your doorstep.
- Financing: Most companies they don't allow everyone an opportunity to experience electric biking. We know that these products can get expensive, with that being said, this isn't any ordinary bike you're purchasing for you and your family. Financing allows our customers who don't wish to pay money upfront a chance to experience our ebikes as well.
- Free Shipping And No Sales Tax: This gets very interesting..... Before the big turn in the world with the pandemic going on, most retail stores were available for walk ins. After the pandemic in 2020 most retailers had 2 choices;
1. Shut Down Business Completely
2. Pivot 100% Online as a Retailer
We're number 2. We are 100% online retailer, yes there's pros and cons, But we focus on our pros. We're able to cut cost with leasing brick and mortar spaces and put that savings BACK INTO OUR CUSTOMER'S POCKETS. By being online, it also helps us get 98% of our customers qualified to pay no sales tax. Most of our customers save anywhere from $100 to upwards of $1,000 on select purchases with us because of our advantages in the market!
Overall, our store, outside of being started out of a need, has a bit of a short story. Here's a message from our owner.
"For those that may be interested, this business, and every single venture I begin in my life is dedicated to my mother (Sheila) who passed away in 2013, January 30th to be exact. After she went through a long hard fought journey of stage IV breast cancer (spread to her brain). Following the passing of my mother in 2013 I've began devoting every single venture, business or personal, after her. I am a small single operated business to be more in touch with my customers. We strive to make the most of our efforts on through our business in the name of my mother Sheila. If you are so inclined, please put us in your prayers and give the patience and understanding when needed as we try to do for all our customers. If you ever need anything from us as a company, please don't hesitate to reach out and our representatives will be HONORED TO SERVE YOU.
---
Seeking members to join scooter gang
This scooter is great for getting to and from sandwich shops when you don't feel like getting in your car again after a long day of work. If a plumber was coming to your house between 10 and 2, you could get to such a shop around 11 so quickly that the plumber would be none the wiser thanks to this scooter. I already charged this scooter overnight and had no issues with electrical fire.
Runs great! I love it
What a deal! Runs great! I love it! It has a weight limit? I weigh 245 and am 5'4" and it "runs on gas!" LOL! No, it won't take me up steep hills but I am able to get it up minor hills. Due to my weight and some hills it will only go about 3 miles on a full charge. I ride it to and from the library and Walmart, post office, etc. I strapped a plastic box with a lid to the back of it to carry small items home from the store and also hang bags on the handle bars. My only complaint is if I was a man the seat would make me sterile! I taped a cushion to it. FIVE STARS! I would buy it again!
Fun for the entire family.
Got this for my son for his 15th birthday. He loves it! I thought it would be tough for him to ride, but not at all. He was comfortable riding it within a few minutes. In fact we all have had a chance to play (My husband, 18 yo daughter, and myself). It is so much fun to ride!!!
Fun & good value scooter.
I purchased this scooter to cruise around a 100,000 square foot warehouse when sciatic leg pain flairs-up. For that purpose it works like a champ and so far I've managed to not become a fork lift hood ornament! Assembly was minimal & straight forward with most needed wrenches supplied with the machine. I weigh 175lbs and zip around on a mostly flat, smooth surface for short duration uses; so I've not had any problems draining the battery. I had no problems learning how best to maneuver around corners, brake, and avoid injuring myself.
Great quality
This is an amazing scooter for my 18 year old son. He was able to assemble it very easily and it charged with no issues. We haven't had it long but so far it's been an awesome experience. It is heavy but he is strong as it needs to be. The tires are a great size, much to some complaints. I did purchase additional protection on it just to be on the safe side. Highly recommend it for any kid with scooter experience and over the age of 15. SoverSky is still the best for scooters in our experience.