Fast Shipping | Easy Returns | No Sales Tax
Regular price
$2,749.00 USD
Regular price
$2,899.00 USD
Sale price
$2,749.00 USD
Unit price
per
Sale
Sold out
Fast Shipping: We Ship In 1-3 Days

Place An Order (888) 886-1488

9,500+ Units Sold
⭐️ Best Selling (CIVI) Revi Bikes Cheetah Cafe Racer Elite 26 Inch Fat Tire Ebike 48V 750W Electric Bike ⭐️   

Brand new head light design. Brighter and looks better.
New saddle design - wider, thicker, and softer 
USB charging port on LCD display controller panel
New, bigger display screen - now you can read motor output (Watt).
Suitable for riders: 5'3 to 6'7+ (handle bar risers needed for riders 6'7+)
Weight Capacity: 350lbs

The Civi Cheetah Cafe Racer  Electric Bicycle (E-Bike) is a Samsung Lithium Battery covered by the tank on the bike. This 6061 aluminum alloy frame bicycle has our 7 Speed Gear Shifting System, a battery pack running at 46 volts 13 ah (also a 17ah available  with), and oversize 26" x 4 Chaoyang tires.
Vintage electric bike inspired by motorcycle. 
The Revi Bike / Civi Cheetah Cafe Racer has a matrix LCD display for the Power Assist System (PAS) located on the handlebars. The Pedal assist offers 5 Level Throttle with 12 Magnet Cadence Sensor. Front & rear Tektro 180mm brake rotors are on the Civi Cheetah Cafe Racer along with a large comfy 17 inch seat to soften your ride!
This Revi  Bike/ Civi Cheetah Cafe Racer will go as far as to 35 (13h battery) - 55 (17ah battery) on a single charge. The battery pack is covered by tank, compact under to the frame and is not noticeable.
This awesome Revi Bike/ Civi Cheetah Cafe Racer specifications are listed below, along with a review video from our good customers showing you the amazing performance of the vintage style Cheetah Electric Bike ⚡
Civi Cheetah Cafe Racer Specs
Power:
Electric
Watts:
750 Watt
Hub Motor:
48V 750W BAFANG -- Peak output power 1000W
Gears & Speed:
7 Speed Shimano® Gears & Shifter
Ah:

13ah (17ah available for upgrade)

Volts:
48 Volts 
Batteries:
Covered by tank - 5hr charge time
Battery Type:
Samsung Lithium Ion Battery
Tire Size:
26" x 4"

 Chaoyang Tires

Charger:

48V 3Amp Smart Quick Charger. Voltage input: 110V ~230V

Speed Type:
PAS & Half TwistThrottle
Per Charge:
Up 35 per charge (13ah battery) - 55 per charge (17ah battery)
Throttle Type:
Half Twist Throttle
Charge Time:
4 Hr Charge Time
Frame Type:
6061 Aluminum  Alloy
Forks:
Steel With Aluminum Shoulder 
Grips:

Durable Imitation Leather Ergonomic Grips

Handlebars:
Customer Formed Aluminum Alloy 27.5 inches Wide
Saddle:
Velo
Seat Post:

Promax, 250mm x 28.6mm

Seat Height:

32" - 38" (adjustable)

Brake Calipers:

Tektro (E-350)

Brake Levers:

Aluminum Alloy Comfort Grip Levers w Motor Cutoff Switch, Hydraulic

Head Light

 LED. Diameter 160mm. Rated 400 Lumens.

Wiring
WaterProof Connectors and Wire harness.




KickStand

Heavy Duty Aluminum with Wide Plastic Foot




USB:
5V USB AVAILABLE -- 

Located on left-hand display control panel

Bicycle Weight: 

75 Lbs (Including the  battery pack)

Max Weight
350 Lbs
Suitable Height:
Yes 5'3 - 6'7+ (handle bar risers needed for riders 6'7+)
Assembly:
90% Assembled Upon Delivery
Warranty:
Lifetime Frame Warranty - Only Valid In United States
. 

Highlights
Question: How Do I Assemble My Bike?

Answer: Very Simple. Slide in front wheel, Handlebar, Seat, Twist On Pedal. And you're good to go! The free accessories are optional to assemble but those are simple
 Question: Do My Bike Come With Instructions? 

Answer: Absolutely, we include instructions in your box. We also have video assembly as well to give you a visual :)
Question: How Long Does The Battery Life Last?
Answer: We don't have it down to an exact science, some customers may call in after 7, or 8 years and say their battery is dying faster than usual and look to get a replacement.
Question: I'm a Bigger Guy, Do You Think I Can Fit?
Answer: Absolutely, our Cheetah is an extremely tough and sturdy unit. The weight capacity is 350lbs and the we do recommend handle bar risers for our big and tall guys to make sure you have maximum comfort :)  
View full details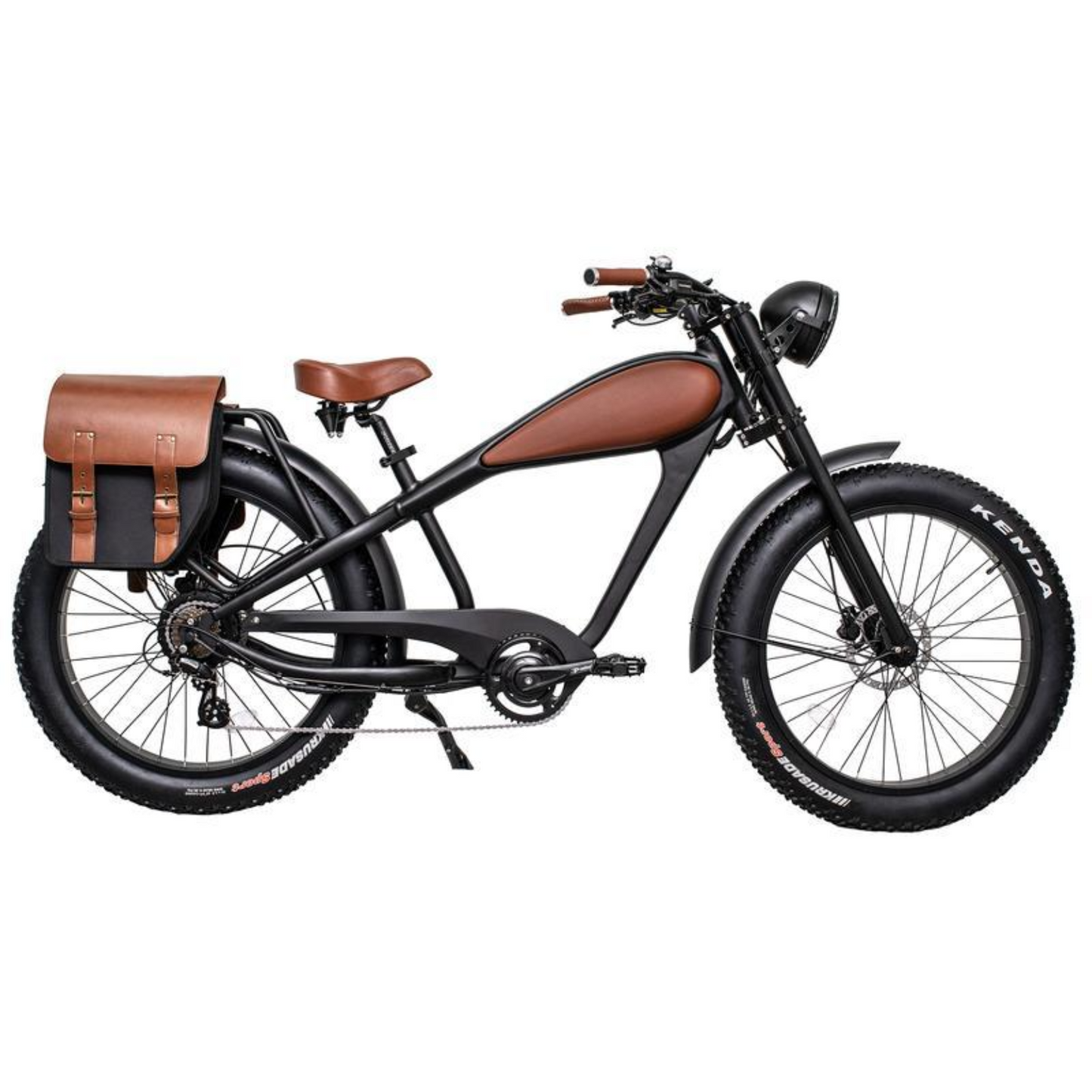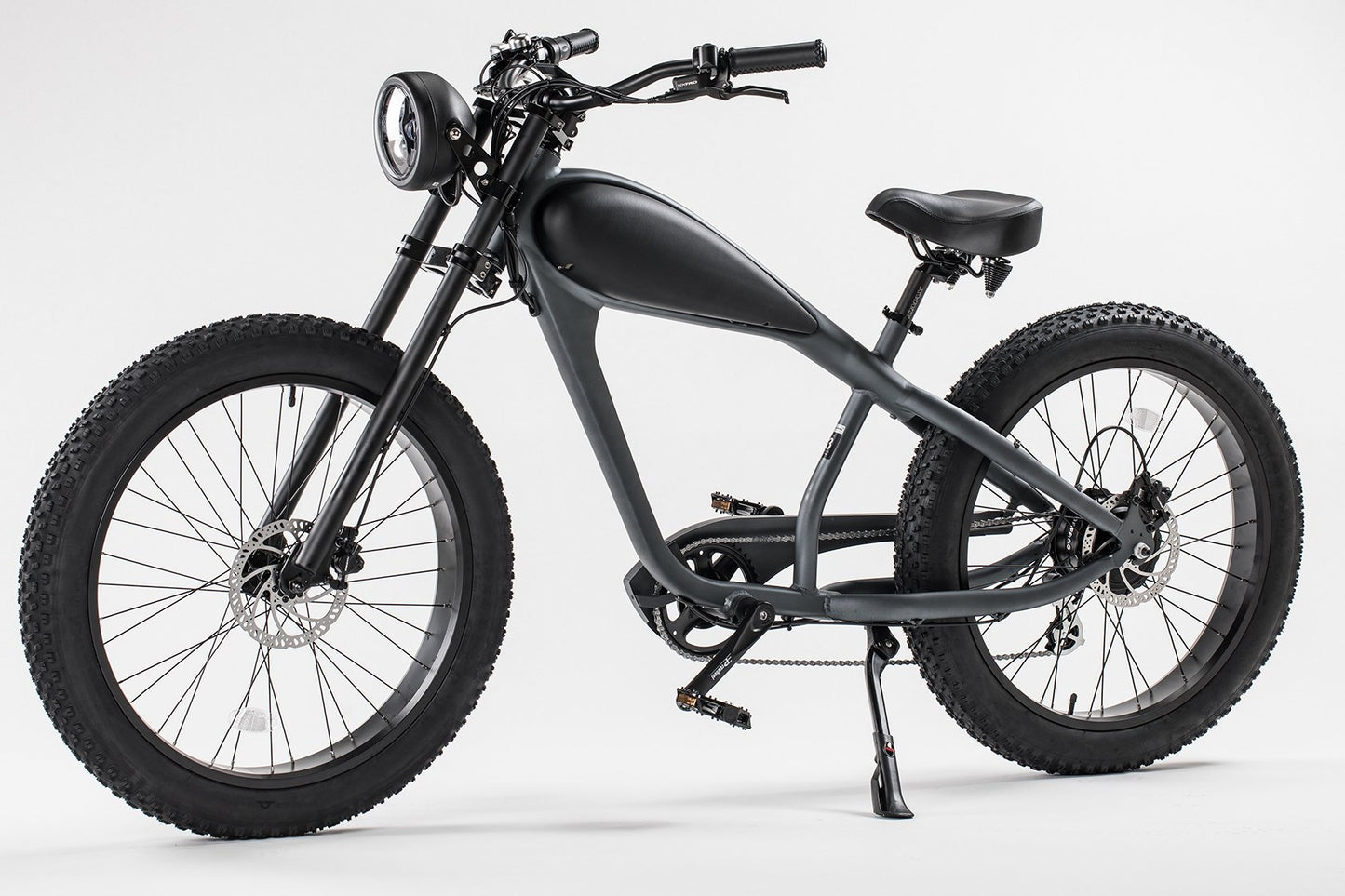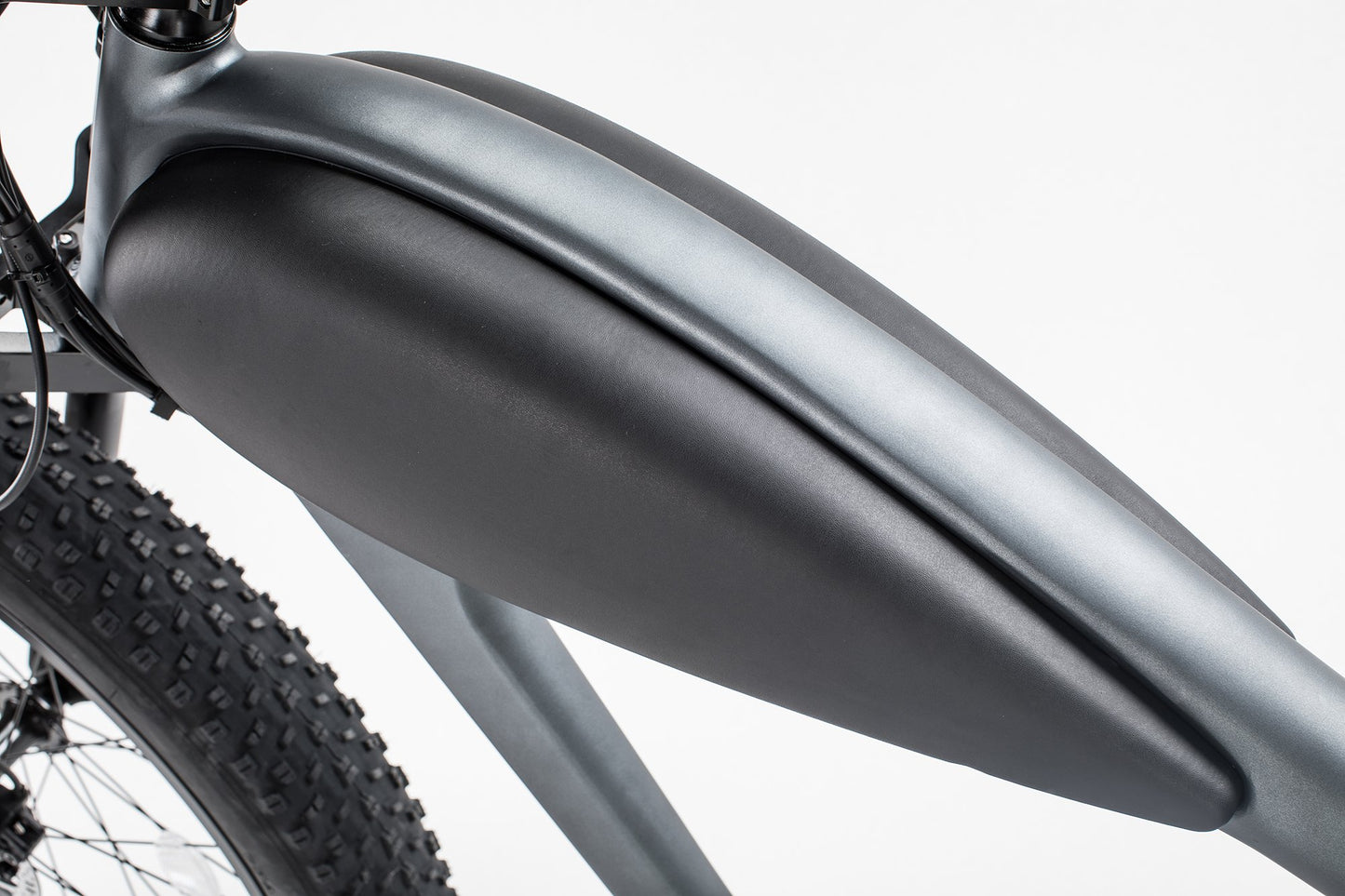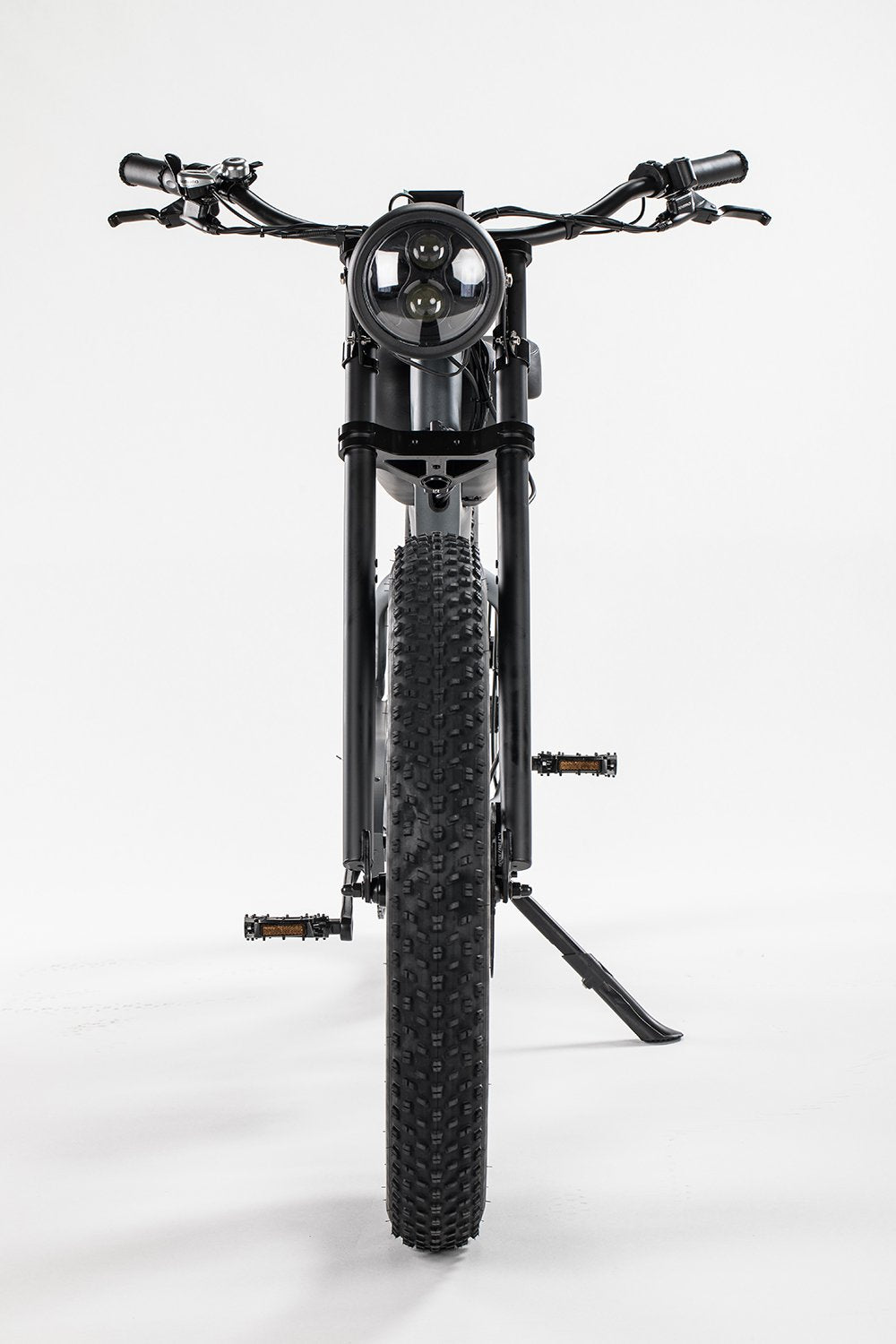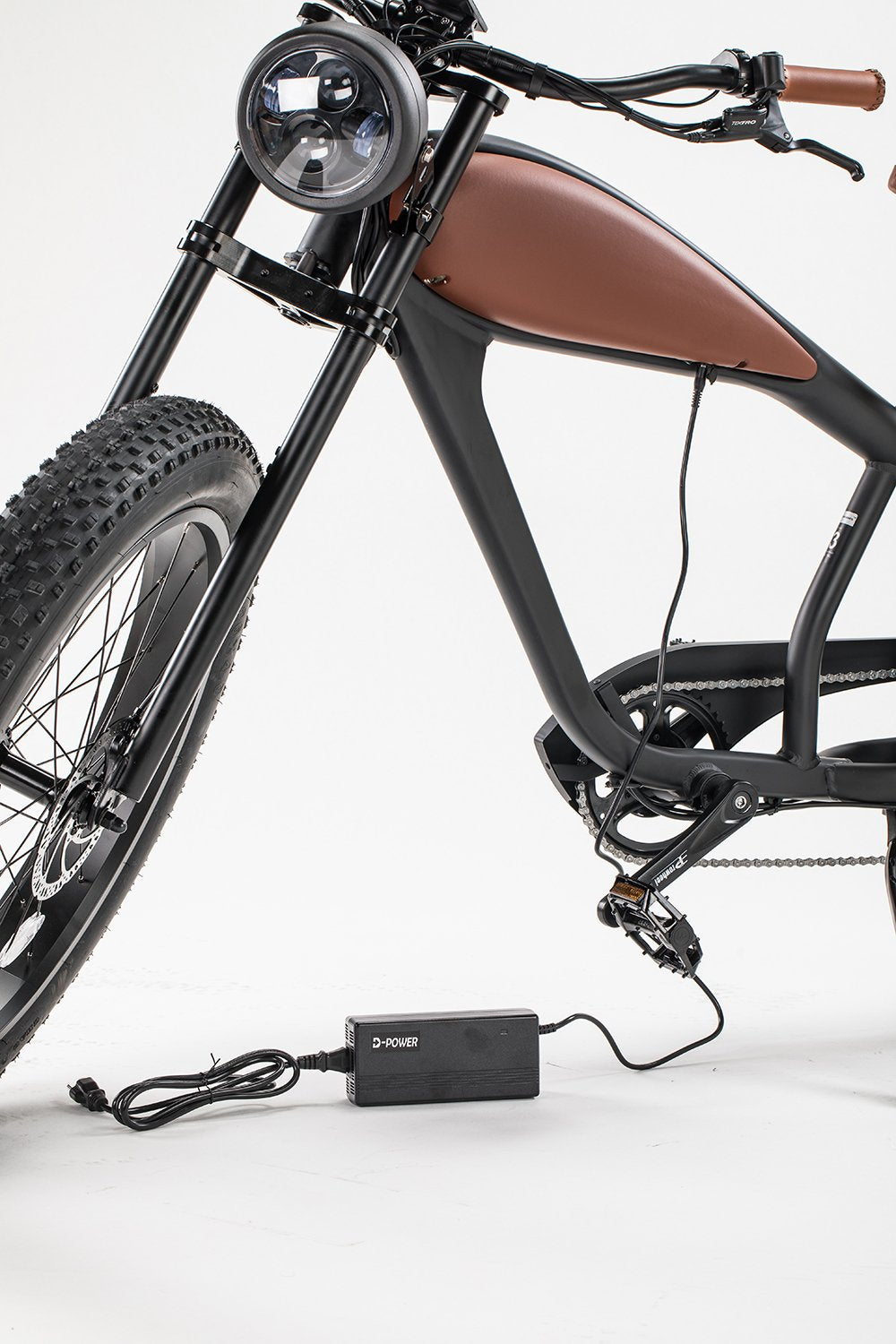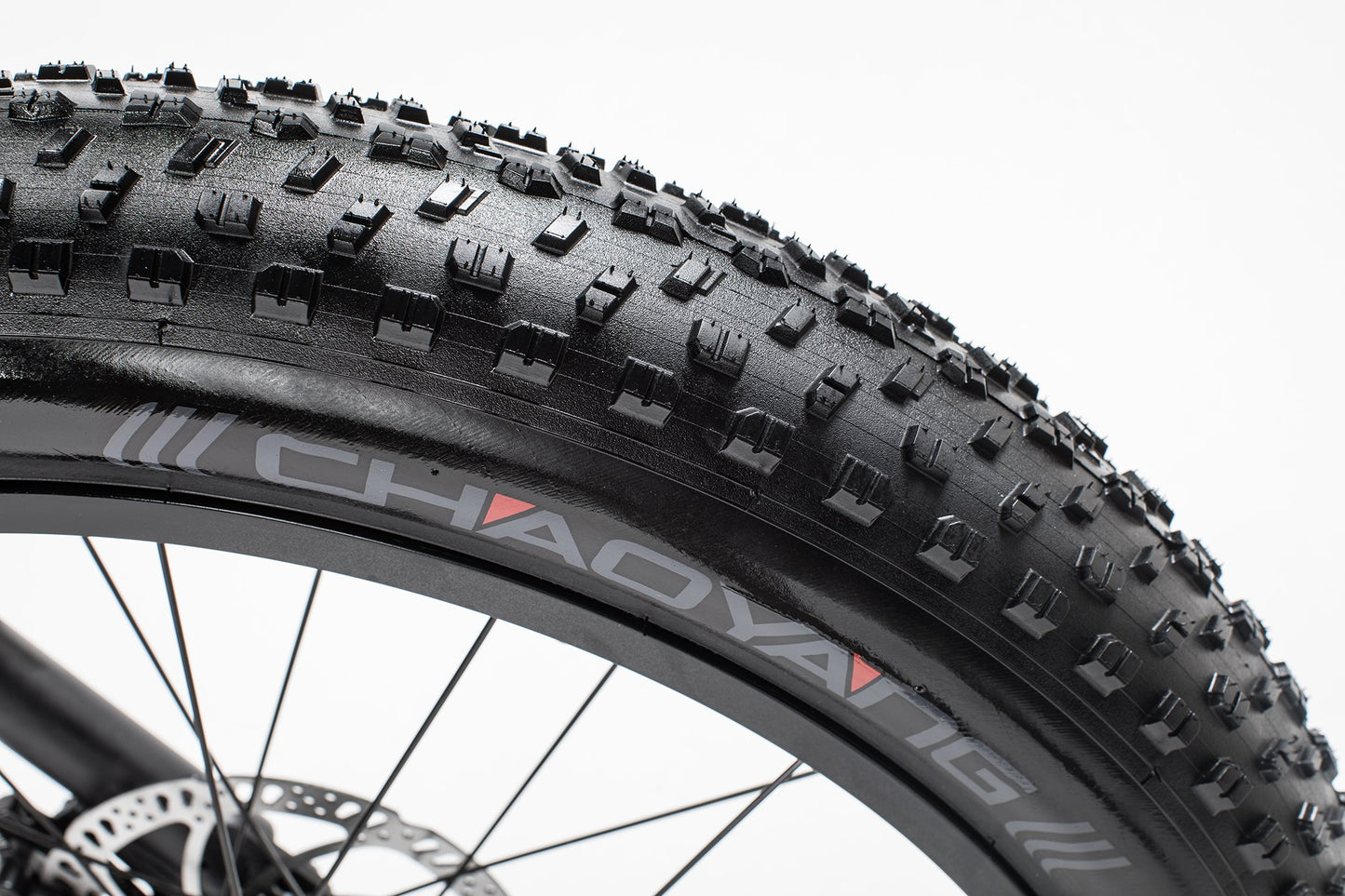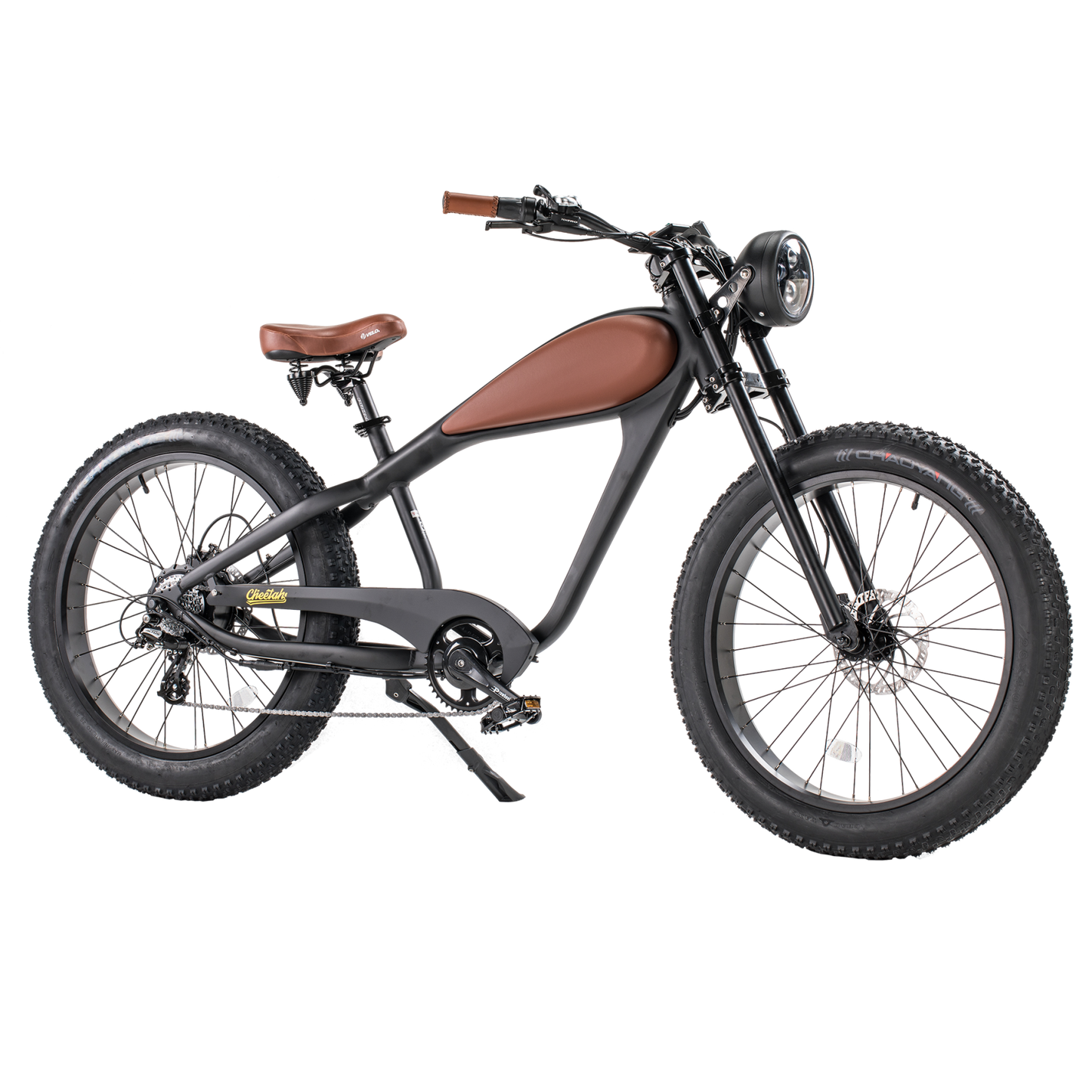 Commuter Bike
I have had this bike since June of 2022. I have already put just over 1000 miles on it. I use it as a commuter bike and ride 26 miles a day on it. The only draw backs of the bike is the headlight is not near bright enough. It is very easy to out ride the light not to mention its more of a spotlight instead of a flood light. I have added a Lumina Micro 850 LED helmet light that takes care of what the other like is lacking. I also had a saddle bag come apart just after 2 months due to poor workmanship. Revi did replace it free of charge since it has a 1 yr warranty but still. The one thing I wish they offered was a front suspension fork it would make for a much smoother ride over the standard fork. Over all though I really like the bike I would recommend it. The battery seems to hold up well, it is well balanced and does draw a lot of attention and questions.
Cheetah
Just got mine yesterday and it is so cool!
Great bike
Bike is fun to ride. But it is quite large and does not handle like a normal bike. It's not what you would call nimble. But it's not meant to be. It is the closest thing to writing a motorcycle without a motor. Bike looks great, turns lots of heads. I love the color display and the bike has lots of power. I would recommend the upgraded battery because the bike does require a lot of power because it's so heavy. But what a blast! I put slime in the tires first thing. If you ever get a flat on the road you're in trouble. It's almost impossible to turn the bike upside down and take the wheel off. A bike stand is the way to go.
50 B-Day GIFT
This bike is absolutely AMAZING!!! I'm 6'00", 255 lbs. This bike fits me perfectly. The style and engineering of this bike is superior to the rest. The ride is so much fun. I feel like a kid again. The 'pedal assist' is very responsive and makes riding this bike a dream. The head light is really bright, and lights up the roadway like a motorcycle. I have ridden this bike up hills and down. It rides up hills with ease and the downhill ride is a thrill. The 'street radar' clocked me at 41 mph. WOW. The bike is heavy and stable. You don't feel the weight when you are pedaling because the Bafang motor is so responsive. This was an awesome gift from my wife and son. I am having a blast, and I LOVE this bike.
Exilerating! Customized After Purchase
A joy to ride, feel like a kid again haha! Love at first site.
Frequently Asked Questions
How To Place An Order?

You Have 2 Ways Of Placing An Order:

1. You Can Place It On Your End Of The Website

2. Simply Give Us A Call And Allow Our Reps To Place Your Order For You

(888) 886-1488
What's Your Shipping Times

We Get Your Order Out The Door Within 24-72hrs. Transit Times Are Just 2-5 Days
Does My Unit Have A Warranty?

Yes, your unit will have 1 year warranty depending on the manufacturer. We also offer extended 1-3 Years of extra protection 💪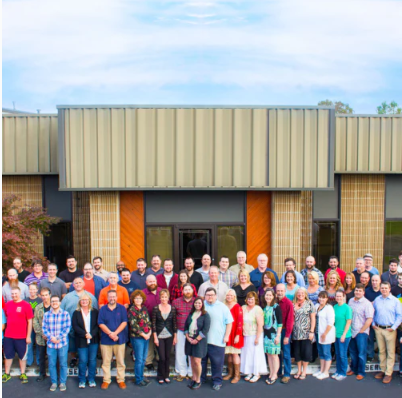 We're Here To Serve You
Meet The Team! We Have A Team Of Dedicated Reps To Ensure The Best Service Any Retailer Has To Offer!
Reach Out Now If You Have Any Questions We're Here To Serve You 24/7
Call Us - (888) 886-1488
- Talk Soon